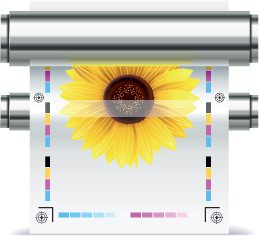 Our Equipment
We have a strong equipment inventory. Since printing is considered a manufacturing business, our equipment choices have a major impact on how well our company can perform.
Our philosophy of providing consistent, on-time delivery and the highest quality printed images is made possible by our job workflow systems, our talented team of coworkers, and our top-notch equipment.
We pride ourselves in our speed and quality, our equipment helps us with getting your project done quickly and looking great!
Did you know?
- With 8 high speed black and white copiers we are able to produce up to 40,000 copies each hour!
- With 2 high speed color copiers we can produce up to 7,000 copies per hour!
- Our Heidelberg 2 color offset press allows us to produce up to 5,000 sheets per hour of high quality spot color prints.
- We have a wide format flat bed UV Solvent printer that lets us print large format prints on many materials like vinyl banners, coroplast yard signs, foamboard and MORE! All of them full color with UV resistant inks.
- We do Perfect Binding! With our high speed binder and trimmer we are able to turn out thousands of beautiful bound and trimmed books per day!
- Our finishing department has several pieces of equipment that allow us to do nearly any type of finishing services you could require, from cutting, lamination, folding, coil binds, saddle-stitching and more!
- Our employees! Yes our co-workers are our greatest asset, with over 75+ years of combined experience in the printing industry!